Finding a web hosting plan is impossible if you've never done it before.
I built a thing to help you find a suitable host really easily.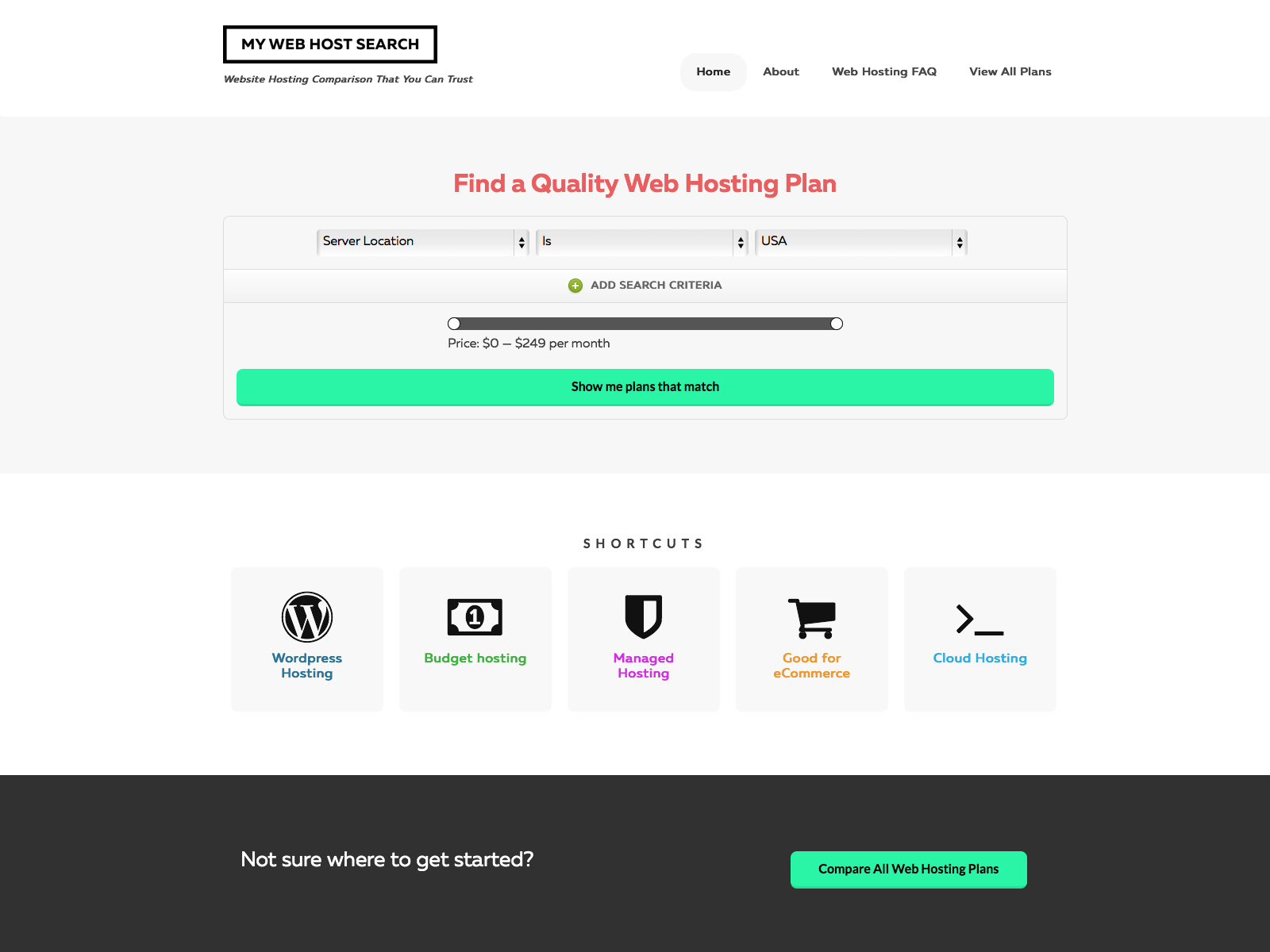 There are literally hundreds of web hosts to choose from and your website could work fine on every single one of them.
Most people complain about their web host, so how do you know which one to chose?
Doing blogs, then websites and then larger ecommerce sites has meant that I've had to work with dozens of web hosts. I've learnt which have terrible support, which go down most frequently and which are most likely to get hacked.
There are web hosting comparison sites out there but they're basically a list of affiliate links recommending horrible web hosts.
I spent a few days building My Web Host Search to give new business owners and anyone that felt as lost as I once did in how to choose a web host.
How does it work?
The User Interface is a simple filter. It starts by setting you a default server location and monthly price range.
You can add or remove as many requirements as possible. You can view simple categories or choose to filter your search by:
Plan type(e.g. Shared, VPS, cloud)
Server type (Linux/Windows)
Server Location
Bandwidth
Storage
File Storage
Automatic Backup
An exercise in how simply you can achieve a goal
You don't need me to tell you that its never been easier to put something like this together.
I wanted to see how little work could be done to make something that would solve the problem. One of the lessons that I've learnt through my BodyWise experience to date is trying to do too much, and in turn doing little exceptionally well.
I used software that did 80% of the job and hacked together the last 20%. Most of making My Web Host Search was in time spent writing up reviews on each company and hosting plan.
Under the hood you've got WordPress, a basic theme that gave me half the look that I was after and WooCommerce to power the bulk of plan sorting and recommendations.
I hacked it around to cut out add to cart functionality and instead send you straight to the plans website, as well as some other changes to make it easier to compare web hosting plans.
Monetizing
I've set up affiliate agreements with many of the hosts on the site. If you end up signing up, there's a chance I'll collect a commission.
Some of those commissions are tiny, but some of them (especially for more enterprise-level hosts) would add up.
I have no idea whether it'll make money or not. That doesn't matter so much. I learnt some stuff, shipped a thing and hopefully solved a problem for some people.
What's next?
This is a quick side project. I need to add a greater variety of hosting plans but I'll stick to quick and simple improvements.
---
Basically, I wish I had this site when I was first getting started with my own websites. That's enough to make me happy.